Welcome from the Training Director
Thank you for considering an application to our APA accredited Doctoral Internship in Health Service Psychology. Our training program is an important and integral part of Counseling & Psychological Services. Please browse our training web page to learn more about our Doctoral Internship, and enjoy links to view more about Counseling & Psychological Services, FSU, and Tallahassee! Please feel free to contact me if you have any further questions about our internship program at aspeters@fsu.edu or (850) 644-8255. We look forward to learning more about you in your application!
General Information
The Doctoral Internship's home is Counseling & Psychological Services, which is the primary mental health services provider at Florida State University (FSU). The Center's mission is to enhance the academic experience of students by promoting healthy personal development through brief individual or couples counseling, group counseling, psychiatric consultation, skill enhancement and preventative outreach services. This mission is accomplished within the parameters of a humanistic philosophy that honors and adheres to the individual student's right to be treated with dignity and respect.
Counseling & Psychological Services moved into the Askew Student Life Center in the Fall 2000 semester which provided staff, students and interns with much improved facilities for therapy, supervision and training. The Student Life Center also contains administrative offices for University Housing, a state-of-the-art 600-seat movie and teleconferencing theater, a cyber cafe, a coffee shop and numerous meeting rooms. This exciting new facility has already become a major center of student activity. Adjacent to the Student Life Center is the newly completed Dunlap Success Center which houses the nationally renowned FSU Career Center, as well as the Center for Leadership and Social Change. Also on the same block is the Center for Global Engagement which provides services to international students as well as the entire university.
Counseling & Psychological Services provides full-time Doctoral internships to counseling and clinical psychology students and part-time internships to masters' students in mental health counseling, social work, and art therapy. The Center is accredited by the International Association of Counseling Services (IACS) and is a member of the Association for Psychology Postdoctoral and Internship Centers (APPIC). The Doctoral psychology internship program is accredited by the American Psychological Association (APA). This document describes the Center's Doctoral psychology internship opportunities.
Video Tour of Counseling & Psychological Services
The University Setting
Florida State University, with an enrollment of 41,000 students, is a Research I university and one of the largest and oldest of the eleven institutions of higher learning in the State University System. Diversity is considerable, with students originating from all fifty states and over 115 countries. Over 25% of the student population are ethnic minorities, with Hispanic (19.8%), Black (8.3%) and Asian/Pacific Islander (2.4%) being the largest groups. An additional 3% are international students. The May 31, 2007 issue of the journal Diverse: Issues in Higher Education ranked Florida State University first in production of African-American baccalaureates among "Doctoral Universities with Very High Research Activity" and fifth among all universities, trailing only four historically black universities. FSU's colleges of law and medicine were also ranked within the top ten in the nation for Hispanics by Hispanic Business magazine (September 2007).
FSU offers undergraduate and graduate degree programs in over 170 fields of knowledge. The University has particularly strong schools of criminology, psychology, theater, social work, law, education, dance and music. The School of Motion Picture, Television, and Recording Arts has quickly become ranked as one of the premier programs in the country. The National High Magnetic Laboratory, the top research facility of its kind in the world, is located at FSU. Programs in the biological sciences and geography take advantage of the immense biodiversity and unique ecosystems of the Florida Big Bend area.
FSU is located about one mile from downtown Tallahassee. On campus, Gothic structures are combined with modern architecture in a rolling landscape of palms, pines, dogwoods, and sprawling live oaks draped in Spanish moss. Flowering shrubs add year-round color. The campus is undergoing an exciting period of modernization and beautification, with new buildings, restaurants and pedestrian walkways. The recently expanded Bobby E. Leach Center provides students and staff with a state-of-the-art recreation/fitness facility.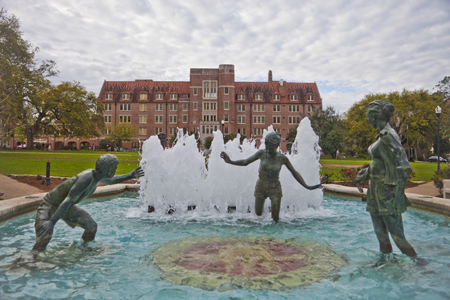 Area cultural offerings include special programs in the dramatic arts, including regular productions from several university and local theaters; musical performances including operas, symphonies, and jazz ensembles; and visual arts displayed both on campus and in a neighboring artisan community. The community ardently supports the FSU men's and women's athletic teams. The Football, Track and Field, Basketball, Baseball, Soccer, Volleyball, Swimming, Golf and Tennis teams  are among the best in the nation. The community ardently supports the FSU athletic teams, which are strong nationally in several sports. FSU consistently has one of the nation's top collegiate football teams–a team that won the 1993 and 1999 national titles. The FSU Flying High Circus is also the only university based circus in the world and consistently draws raves for its on campus and traveling performances.
Additional photos of Florida State University
Living in Tallahassee
Tallahassee, the state capital, is home to Florida A&M University and Tallahassee Community College, in addition to FSU. Tallahassee is a culturally and politically dynamic community with a strong sense of identity. The metropolitan area is rapidly growing with a current population of about 270,000 and is located in the northwestern part of the state, an area called the "Big Bend." A recent national survey of college towns ranked Tallahassee the second best medium sized city in which to live. There is considerable sunlight with warm, moist summers and mild winters. Tallahassee has gently rolling hills and is covered with beautiful tree-lined streets some of which are protected "canopy roads." The southern edge of town borders Apalachicola National Forest that spans the forty miles to the Gulf of Mexico. Gulf Coast beaches and recreation begin within a one-hour drive south of Tallahassee and stretch 200 miles to Pensacola. Northern Florida is also known for its unique and refreshing freshwater springs and plentiful wildlife.
Staff
The staff is multi-disciplinary and culturally diverse, with licensed professionals from several mental health disciplines, including clinical and counseling psychology, social work, mental health counseling, art therapy and a mental health education coordinator. Typically there are four Doctoral psychology interns and three pre-masters interns. The support staff consists of an office administrator and receptionists. Staff members hold membership in a variety of professional organizations including the American Psychological Association, the Florida Psychological Association, the American Counseling Association, the American Group Psychotherapy Association, the National Association of Social Workers, and the American Art Therapy Association.
Administration
Primary Supervisors
Additional Training Staff and Contributors
Lindsay Barbee, MS, LMHC, Art Therapy
Florida State University
Counselor, AOD Coordinator, and Mental Health Withdrawal and Course Drop Coordinator
Kimberly Bechtel, LMHC, Art Therapy
Florida State University
Counselor and REACH Coordinator
Brittany Betton, LCSW
Florida State University
Counselor and NOLES C.A.R.E. Coordinator
Luke Brocco, LCSW
Florida State University
Counselor 
Julia Coelho, Ed.S. LMHC
Florida State University
Counselor
Masters Internship Coordinator, Post-Masters Residency Coordinator
Madalyn Conetta, MSW, LCSW, Social Work
Florida State University
Counselor and Victim Services Coordinator
Rebekah Elliott, LCSW
Florida State University
Counselor 
Robyn Gast, LCSW
Florida State University
Clinician for the College of the Motion Picture Arts
Magnolia Hood, M.S.Ed. LMHC
Southern Illinois University-Carbondale
Counselor and RENEW Supervisor
Mary Norman, LMFT
University of Central Florida
Counselor 
Jessie Spraggins Rochford, MS, ATR, LMHC, Art Therapy
Florida State University
Counselor and Eating Disorders Treatment Team Coordinator
Julia Storace, M.A. Community Counseling
St. Joseph College
Counselor
Katherine Strauss, LCSW
Florida State University
Counselor 
Sarah Sturges, MSW, LCSW, Social Work
Florida State University
Counselor
Brittany Thorn, Ed.S. LMHC
Florida State University
Counselor
Kotrish Wright, LCSW
Florida State University
Counselor 
Training Aims and Profession Wide Competencies
The Doctoral Internship in Health Service Psychology at the Florida State Counseling & Psychological Services has the Aim of supporting interns in their professional growth and in gaining solid skills in the Profession Wide Competencies through an atmosphere which emphasizes a mentor-apprentice approach and continuous learning. Our training program will provide supervision, modeling, as well as, didactic and experiential learning activities in the competencies of:
Research
Ethical and legal standards
Individual and cultural diversity
Professional values, attitudes, and behaviors
Communication and interpersonal skills
Assessment
Intervention
Supervision
Consultation and interprofessional/interdisciplinary skills
It is our belief that close, collegial involvement with psychologist role models provides a phase appropriate learning experience for the interns, allowing for enhancement of their professional identity while further developing their skills and competencies as practitioners. The multidisciplinary environment of Counseling & Psychological Services also provides a diversity of professional involvement and interaction reflective of most post-internship employment settings. In addition to psychologists, interns have routine contact with training staff with expertise in social work, mental health counseling, art therapy, and addictions treatment. Interns also have the opportunity to work closely with Psychiatry and other medical staff at University Health Services. The internship year is clearly a time of transition, when interns must bridge and integrate the science of their academic training with the practice necessitated by their developing role as professional psychologists. It is the program's philosophy that mentoring provides our interns an opportunity to internalize and consolidate that professional role, and makes the transition from graduate student seem both possible and worthwhile.
Developmental considerations are foremost in our training approach. We recognize the need and necessity for our interns to apply, in an intensive manner, the science of psychology they have learned in their graduate programs and further develop competencies in assessment, diagnosis, intervention and consultation. We strive to provide a supportive environment that allows interns to take on increasing levels of responsibility over the course of the internship, thereby building their confidence along with their competence. As part of this process, interns have the opportunity to observe and collaborate with senior clinicians in a variety of activities ranging from individual and group therapy to consultation and outreach. As the interns and their supervisors become comfortable with the intern's skill level, supervisors function more as available and consultative mentors.
The Center views interns as professional colleagues and vital staff members whose contributions are encouraged and valued. The individual intern's areas of strength and interest are incorporated into the yearlong experience. Through supervision and training, we assist the intern in identifying areas requiring further growth, while exposing them to a broad range of theoretical orientations and specialized expertise of the staff that will enhance their professional development. Interns are thereby afforded the opportunity to pursue somewhat individualized training experiences based on their experiences, interests and goals.
The internship is a vital component of Counseling & Psychological Services and, as such, the aims of intern training are necessarily intertwined with the service goals of Counseling & Psychological Services. Thus the provision of high quality, informed and ethical treatment to a large and diverse student population is of paramount importance. Recognizing the educational mission of the Florida State University, it is also important for the internship to support this mission through the training of interns, engagement in scientific inquiry and outreach and consultation to the greater university community. Permeating the program, through formal training, procedure and example, is an interest in and respect for diversity in all its forms.
The overall goal of the Doctoral Internship is to prepare Counseling and Clinical Psychology Interns to function ethically, competently and independently as Health Service Psychologists. The training is generalist in nature, aimed at expanding the intern's experience and awareness of self and other, while refining skills necessary to practice psychology effectively. The internship attempts to foster personal growth and self-confidence, along with a sense of professional identity.
Application and Selection
Doctoral psychology interns are selected through national searches following APPIC guidelines. As an APPIC member, Counseling & Psychological Services Doctoral Psychology Internship participates in the APPIC Internship Matching Program (Program Code 122311). Applicants must be registered with the Matching Program to be eligible for selections. An Applicant Agreement package can be obtained from the National Matching Service through the Matching Program web site at www.natmatch.com/psychint. Psychology interns must also be currently enrolled in an APA accredited doctoral program in Clinical or Counseling psychology, and have full clearance from their home program to apply for internship. Practica preparation requirements include successful completion of at least two practica with a minimum of at least 400 interventions hours which have been completed prior to the application due date. If COVID-19 affected your ability to meet these minimum criteria, we will accept your application for review.  Please note in your cover letter how your practicum hours were affected, and we will be happy to consider your application. Applicants must have successfully defended their dissertation proposal and passed their Comprehensive Exams by the end of December to be eligible for consideration.
The Florida State Counseling & Psychological Services Internship Program reaffirms its commitment to a policy of equal opportunity and pluralism, thus enhancing diversity and assuring a campus climate that values and respects the worth and dignity of all persons. Therefore, we ascribe to APA's position statement "Preparing Professional Psychologists to Serve a Diverse Public: A Core Requirement in Doctoral Education and Training" which can be found at http://www.apa.org/pi/lgbt/resources/policy/diversity-preparation.aspx. We train interns to be well-rounded professional psychologists with the competencies to serve clients representing different forms of diversity. In providing this training, we commit ourselves to creating a supportive training environment that allows for self-exploration and the development of cognitive flexibility. Our grievance procedure, due process policy, and administrative policies for interns are included in our "Doctoral Internship Training Program Handbook - Policies and Procedures" and are available upon request.
Application is done by utilizing the AAPI Online which can be accessed on the APPIC website at http://www.appic.org. Applications must include a cover letter, the application form, an official graduate transcript, a vita, and three letters of recommendation. Cover letters must include specific reasons for seeking a Doctoral Internship at Counseling & Psychological Services at Florida State University. The AAPI Online must be submitted by November 1. We currently have four intern positions. Any questions regarding the internship or the application process can be addressed to:
Annette Peters, Ph.D., Training Director
Counseling & Psychological Services
Reuben O'D Askew Student Life Center
942 Learning Way, Suite 250
Florida State University
Tallahassee, FL 32306-4175
Phone: 850-644-TALK (8255)
Fax: 850-644-3150
e-mail: aspeters@fsu.edu
Applicants will be notified regarding their selection for an interview no later than December 15. We offer the option of an onsite or Skype/phone interview. 
As a precaution to protect your safety and ours, all interviews this year will be by Zoom in either late December or early January.  Applicants who match to our program but do not successfully pass this background check will not be employed as doctoral interns (APPIC Match Policy 8b states, "Appointments of applicants to internship positions may be contingent upon the applicants satisfying certain eligibility requirements. Such eligibility requirements must be clearly specified in the internship programs' written materials and provided to applicants in advance of the deadline for submitting rankings for the APPIC Match."). Applicants are welcome to discuss any questions about this procedure with the Training Director.
Please note: This internship site agrees to abide by the APPIC Policy that no person at this training facility will solicit, accept or use any ranking-related information from any intern applicant.
Policy Regarding Academic Programs Requesting Additional Evaluation Materials or Contracts 
Interns at Counseling & Psychological Services receive ongoing evaluative feedback from supervisors throughout the training year. These evaluations are comprehensive, are based on our program's training model, philosophy, goals and objectives, and competencies and benchmarks established by our profession. At mid and end year, the Florida State University Counseling & Psychological Services Director of Intern Training sends the Academic Training Director a copy of our internship's evaluation of the intern for that portion of the internship year. Therefore, if you are enrolled in an academic training program that requires additional training contracts and/or evaluations, these will not be completed by the Florida State University training staff. Your program may choose to use the data from the Florida State University Counseling & Psychological Services evaluations to complete their own forms. You are strongly encouraged to consult with your Director of Clinical Training or the Florida State University Counseling & Psychological Services Director of Intern Training if you have questions about this policy.
The Doctoral Internship in Health Service Psychology at Counseling & Psychological Services is accredited by the Commission on Accreditation of the American Psychological Association. Counseling & Psychological Services is accredited by the International Association of Counseling Services (IACS). For any questions related to this programs accreditation status, the APA Office of Program Consultation and Accreditation can by reached at: 
Office of Program Consultation and Accreditation
American Psychological Association
750 1st Street, NE, Washington, DC 20002
Phone: (202) 336-5979 / E-mail: apaaccred@apa.org
Web: www.apa.org/ed/accreditation
Orientation
Doctoral internships start the beginning of August. Orientation of new interns includes a week long formal orientation process conducted prior to the fall semester. This orientation is designed to help new interns begin their training at Counseling & Psychological Services. The purpose of the orientation program is to introduce new doctoral interns to the Center's philosophy, aims, competencies, organization, staff, and policies and procedures. Included are mini-seminars outlining crisis counseling, intake procedures, risk assessment, forms and documentation, and supervision requirements. In addition, tours are conducted of other relevant resources on campus. An important part of orientation is to begin the year long process of developing mentoring relationships with all of the staff. The orientation process is also constructed to provide opportunities for the new intern class to learn about each other and develop the trust and comfort which provides a supportive relationship among the intern cohort.
Seminars
Weekly training seminars focus on themes related to the counseling needs of the Center's clientele which consists of a broad spectrum of "traditional" and "non-traditional" college students. Treatment considerations, including a variety of approaches and intervention modes, are highlighted. The training seminars are organized by the training director and conducted by Counseling & Psychological Services staff members and guest specialists from the university and local community. Representative topics include: crisis management, eating disorders, suicide prevention and intervention, assessment and treatment of self-injurious behavior, addictions, gay and lesbian concerns, transgender issues, issues in treating international students, couples counseling, grief, Autism Spectrum Disorders, psychopharmacology, ethics, licensure issues, multicultural counseling, anxiety and stress management, evaluation assessment tools, sexual assault/rape issues and treatment of depression. The array of topics reflects the many client issues interns face in this counseling setting. There are also ongoing monthly seminars in Diversity, Assessment, Group Therapy, and Supervision to facilitate intern development and skills.
Supervision
All interns are supervised in the provision of individual, couples and group counseling. Supervision is based primarily on case discussions and review of video recordings of sessions. Interns typically co-lead group therapies with experienced staff members with whom they can discuss group issues. Training in client assessment is strongly centered on interviews and developing familiarity with a variety of assessment tools used in the context of psychotherapy. Clients seeking career information or vocational testing are referred to the FSU Career Center; however, career issues may be a focus of counseling with Counseling & Psychological Services clients.
Interns receive a minimum of two hours per week of individual supervision and two hours per week of group supervision (one hour focused on individual cases and one hour focused on group therapy). Frequent informal supervision and/or consultation with other staff members (of whatever discipline seems appropriate for a given situation) is encouraged and expected in response to issues that arise between formal supervision sessions. Licensed Clinical and Counseling psychologists provide primary supervision of Doctoral psychology interns. The Director of Intern Training also meets weekly with the interns to discuss any issues of concern and to promote the growth of professional development throughout the year.
Distance education technologies are not currently used for supervision and training. All training and supervision are provided face to face onsite.
Interns also receive formal training in providing supervision through the supervision of advanced practicum students from the FSU's Counseling and Clinical Psychology programs. The interns attend monthly Supervision Seminars in the fall and spring semesters. During the time they provide supervision, they receive Supervision of Supervision with both an individual licensed psychologist and also in a Supervision of Supervision Group.
Clientele
Counseling & Psychological Services offers services to all students enrolled at FSU. There is a great diversity in the Center's clientele with an average age of 24 years and an age range of about 17 to 60 years. There are a high proportion of seniors and graduate students and two-thirds of the clients are female. Recent statistics indicate the following breakdown: 57% Caucasian, 23% Multi-Racial, 10% Black or African American, 4% Hispanic, 4% Asian.
Services
Individual Therapy
Counseling & Psychological Services offers mental health services in the form of brief individual treatment on a session-limited basis. Counseling services are short-term and time-limited to maximize service provision to a wide range and large number of students.  Most students who request counseling services are served appropriately and sufficiently within the current session limit; however, interns have the opportunity to carry several clients for more extended treatment when deemed treatment appropriate within the scope of our clinical setting.
Group Therapy
The Group Psychotherapy training component is a major focus of the Doctoral internship and is based upon the idea that we learn best through mentored apprenticeship. Interns will be assigned to one of four currently running process groups that they will co-lead with the Group Psychotherapy Coordinator for the year long internship with the goal of developing expertise in group leadership, member selection, co-therapy and other aspects of group psychology as it relates to clinical practice. In addition, interns will have the opportunity to join with other Center staff as co-therapists in a variety of counseling, psycho-educational and process groups that are offered each semester at the Center. Interns will participate in the weekly Group Therapy Supervision and Administration Meeting, the monthly Doctoral Seminar on Group Psychology as well as participate in various consultation opportunities on campus with the Group Psychotherapy Coordinator. 
Couples Counseling
Couples counseling is offered when appropriate. Client partners and spouses who are not FSU students are ineligible for individual services; however, they may be treated in conjunction with an eligible student. Interns who are interested typically have no difficulty in finding couples with whom to work.
Consultation
Staff and interns regularly provide consultation to the university community. Interns are often involved in providing consultation and/or presentations to University Housing, the Victim Advocate Program, Office of Accessibility Services, the Eating Disorder Treatment Team, Greek Life, the Center for Global Engagement, and programs developed to support first generation college students and underserved populations (CARE-Center for Academic Retention and Enhancement). Counseling & Psychological Services also has contact with Thagard Student Health Center and other departments of the Division of Student Affairs, the FSU Police, the Crisis Management Unit, Tallahassee area hospitals, human services agencies, and private practitioners.
Typical Week
Professional Development
| | |
| --- | --- |
| Seminar/Training | 3 ½ hrs. |
| Group Supervision | 2 hrs. |
| Individual Supervision-primary | 2 hrs. |
| Ind. Supervision of Group Work | 1 hr. |
| Intern Lunch | 1 hr. |
Service
| | |
| --- | --- |
| Individual and Couples Counseling | 14 hrs. |
| Group Counseling | 1 ½ hrs. |
| Intake Sessions | 2 hrs. |
| Outreach/Consultations | 1 hr. |
| Supervision of Practicum Student | 1 hr. |
Administration
| | |
| --- | --- |
| Staff Meetings/Case Conference | 1 hr. |
| Committee Meetings | 1 hr. |
| Case Notes, other paper work | 5 hrs. |
| Research, etc | 4 hrs. |
Interns rarely exceed a regular 40-hour work week and typically find time for research, professional reading and other activities of their choosing. Center activity is quite "seasonal" by nature. The demand for services tends to steadily increase during fall and spring semesters. Clientele flow tends to be light during semester breaks and moderate from May to August. Interns should expect to carry substantial caseloads during peak periods so that they can "average" 25% of their time in direct client contact across the whole of their internship. Doctoral psychology interns work 40 hours per week primarily during the Center's business hours.
Benefits
Doctoral interns receive a stipend of $35,000 (via biweekly pay periods) and use of university facilities, libraries, and computer equipment. Each intern has a private office and computer with Internet access. Interns are eligible to purchase low cost health insurance available through University Health Services. Counseling & Psychological Services observes state and national holidays (approximately 9 days per year) and is often closed for part of the winter holiday. Interns receive 10 days of combined annual leave and sick leave for the year, in addition to up to 5 days of professional development leave. Interns are allowed up to $500 toward professional conference/workshop expenses. Student membership in the Florida Psychological Association is also provided to allow interns to participate in trainings and professional development activities conducted by the FPA during the internship year.
Performance Expectations for Internship Completion
In order to graduate from the internship and receive a Certificate of Completion, interns must meet the following exit criteria:
Doctoral Psychology Interns
Completion of the full 52 week internship and acquisition of 2000 intern hours.
Full participation in all required activities (e.g. meetings, supervision, training seminars)
Completion of all required internship tasks and the supervisor and internship evaluations.
Performance of a minimum of 500 direct service hours is required.
Adherence to the Ethical Principles for Psychologists (APA, 2002 with 2010 Amendments).
Approval to pass the internship requires that a doctoral intern reach the Minimum Level of Achievement (MLA) on the end-of-year evaluation for each Profession Wide Competency. The MLA for each Profession Wide Competency is a "3" (Satisfactorily Proficient) on the elements for each competency.
Former Interns
2022-2023
Julia Erin Morpeth-Provost
Counseling Psychology
University of Texas-Austin
Kelly Dillon
Counseling Psychology
Florida State University
Madison Estrada
Counseling Psychology
University of Southern Mississippi
Yoojin Cho
Clinical Psychology
Chicago School of Professional Psychology
2021-2022
Olivia DeAngelo
Counseling Psychology
Tenn State University
Pamela "Mandy" Hughes
Clinical Psychology
Biola University
Dan Krizan
Clinical Psychology
Nova Southeastern University
Sara Staley
Clinical Psychology
Nova Southeastern University
2020-2021
Michelle Gad
Clinical Psychology
Adler University-Chicago
Melissa Hinely
Clinical Psychology
Georgia Southern University
Michael Nackashi
Clinical Psychology
Nova Southeastern University
Grace Waite
Clinical Psychology
William James College
2019-2020
Madison Allen
Clinical Psychology
University of Indianapolis
Becky Conrad
Clinical Psychology
Georgia Southern University
Bryan Goldin
Clinical Psychology
Nova Southeastern University
Jessica Langley
Clinical Psychology
Argosy-Atlanta
2018-2019
Jenna Banks
Clinical Psychology
Nova Southeastern University
Camille Benito
Clinical Psychology
Nova Southeastern University
Nicole DeFerrari
Counseling Psychology
Chatham University
Wendy Gonzalez-Canal
Counseling Psychology
Ball State University
2017-2018
Claudine Anderson-Atkinson
Counseling Psychology
Georgia State University
Kevin Burchby
Clinical Psychology
William James College
Shala Cole
Clinical Psychology
The Chicago School of Professional Psychology
Erin Smith
Clinical Psychology
Wayne State University
2016-2017
Shemika Brooks
Clinical Psychology
Rutgers University
Joanna Menendez
Counseling Psychology
Georgia State University
Philip Randall
Clinical Psychology
East Tennessee State University
Tyme Rodriguez
Clinical Psychology
Argosy-Washington DC
2015-2016
Maria Drvoshanov
Clinical Psychology
Florida Institute of Technology
Kulkiran Nakai
Clinical Psychology
Adler School of Professional Psychology
Brett Woods
Counseling Psychology
University of Missouri-Columbia
2014-2015
Brittani Berbette
Clinical Psychology
Saint Louis University
Kelly Kit
Clinical Psychology
University of Hartford
Patricia Monaghan
Clinical Psychology
Florida Institute of Technology
Annette Peters
Counseling Psychology
University of Northern Colorado
2013-2014
Nicholas Beck
Counseling Psychology 
University of North Texas
Lisa Denton
Counseling Psychology
Indiana University
Adam Dziedzic
Counseling Psychology
Oklahoma State University
Victora Nguyen
Clinical Psychology
Loma Linda University
2012-2013
Hillary Cagle 
Clinical Psychology 
Nova Southeastern University
Erica Johnson 
Clinical Psychology 
Florida Institute of Psychology
Abby Nethaway 
Counseling Psychology 
Ball State University
Brett Swords 
Counseling Psychology 
University at Albany
2011-2012
Jennifer Bickell
Counseling Psychology
Baylor University
Mikhail Bogomaz
Clinical Psychology
Argosy University – Chicago
Christopher Hanes
Counseling Psychology
Indiana University – Bloomington
Craig Asselin
Clinical Psychology
James Madison University
2010-2011
Randi (Johnson) Mackintosh
Clinical Psychology
Florida Institute of Technology
Sandra Rodriguez-Siuts
Counseling Psychology
Texas Tech University
Marcee Turner
Counseling Psychology
University of Notre Dame
Keya Wiggins
Counseling Psychology
Indiana State University
2009-2010
Daniel Goldman
Counseling Psychology
Iowa State University
Shawn Levstek
Clinical Psychology 
Argosy University –Tampa
Luis Romero
Counseling Psychology 
Indiana State University
Theresa Welles
Counseling Psychology 
Florida State University
2008-2009
Sung Kim
Counseling Psychology
University of Texas
Lori (Roop) Bristow
Clinical Psychology
George Mason University
Megan Shiles
Counseling Psychology
University of Akron
Julie Swanson
Clinical Psychology
Miami University of Ohio
2007-2008
Chris Cousins
Counseling Psychology
Purdue University
Paul Poteat
Counseling Psychology
University of Illinois – Champaign-Urbana
Shannon Salter
Counseling Psychology
Auburn University
2006-2007
Adina Aldea
Counseling Psychology
University of Florida
Tamara (Young) Richardson
Counseling Psychology
Oklahoma State University
2005-2006
Marios Argyrides
Counseling Psychology
Tennessee State University
Courtney Ramous
Clinical Psychology
Florida School of Professional Psychology (Argosy-Tampa)
2004-2005
Michelle (Marcus) Rothschild
Clinical Psychology
Argosy University (Atlanta)
Corine Samwel
Clinical Psychology
Florida State University
2003-2004
S. Joseph DeWitz
Counseling Psychology
Ohio State University
Rosanna DiChiro
Clinical Psychology
Nova Southeastern University
Julie Hawkins
Counseling Psychology
University of Miami
2002-2003
Allison (Broadbent) Vandenhouten
Clinical Psychology
Nova Southeastern University
Naoya Izawa
Clinical Psychology
University of Hartford
Robert "Jake" Jacobs
Counseling Psychology
Texas A&M University
2001-2002
Nick Maccorrone
Clinical Psychology
Nova Southeastern University
2000-2001
Joseph Cheries
Clinical Psychology
Florida Institute of Technology
Keely Waters Kaklamanos
Counseling Psychology
Florida State University
1999-2000
Misty Hook
Counseling Psychology
Ball State University
Kelli Johnson
Counseling Psychology
University of Miami